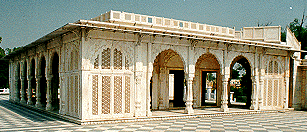 Bansar Garden, Sangrur
Sangrur is situated on Ludhiana-Jakhal Railway line and is well connected by road with Patiala, Ludhiana, Chandigarh and Bathinda. The Banasar garden, in addition to its walking trails and plantations is famous for its marble Baradari (building with 12 doors), mini zoo and the old Diwan Khana which is a museum now and which stands out of the middle of a pool. It is decorated with carved marble slabs and four towers. One enters the Baradari through a bridge leading to a marble gate on the western side. Banasar garden is open to public now.
Sangrur
80 Kms from Ludhiana, 48 Kms from Patiala capital of the erstwhile Jind State. The Palaces of the state fell to the share of Haryana . Government Civil Secretariat and Diwan or Assembly Hall of the erstwhile State are some of its worth mentioning structures, well planned Banesar Garden in the north of the city with an attractive marble baradari is a popular picnic spot now.
Disclaimer :Infopunjab, the Infopunjab Logo, and related marks are trademarks of Infopunjab, Inc. © 2003InfoPunjab, Inc. All rights reserved. The information on our site is subject to change anytime and we can't warranty/guaranty Infopunjab Inc shall not be liable for any errors or delays or for any action taken in reliance on the

content. The content is for information best to our knowledge