Amritsar - Dera Baba Nanak -Qadian-Kala naur--Pathankot.
At Dera Baba Nanak the first Prophet of Sikhism, Sri Guru Nanak
Dev Ji spent the last days of his life. At the historic Gurdwara built in his memory holy robes that were presented to him at Mecca are still preserved. Qadian is the home of the founder of the Ahmedyia Sect of the Muslims. At Kalanaur,Akbar-the-great was coroneted. Pathankot is India's link city to the State of Jammu and Kashmir and the best tourist destinations of Himachal Pradesh.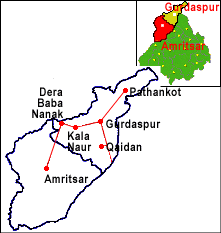 Disclaimer :Infopunjab, the Infopunjab Logo, and related marks are trademarks of Infopunjab, Inc. © 2003InfoPunjab, Inc. All rights reserved. The information on our site is subject to change anytime and we can't warranty/guaranty Infopunjab Inc shall not be liable for any errors or delays or for any action taken in reliance on the

content. The content is for information best to our knowledge